Levels of Care and Comforts of Home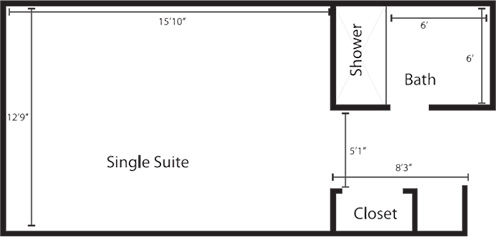 All assisted living resident rooms at Sunset Ridge Jefferson are private. Each senior apartment suite contains a large private bathroom, spacious large storage closet, and living area for bedroom and entertainment. Residents are encouraged to furnish their own suites and are welcome to bring personal furniture items, wall hangings, window treatments, and other comforts from home.
Amenities include independent climate controls, private bath, emergency call system, large closet and storage space, all inclusive standard utilities, wireless internet access, and satellite TV service.
---
At Sunset Ridge Jefferson we provide three levels of care for our assisted living home residents. These care levels assist with senior living, nursing care and memory care for each individual resident. Each level of care represents a starting point and is tailored to the individual resident. Our levels of care range in services and are as follows:
LEVEL 1 INCLUDES:
Private unit including housekeeping, laundry service (no dry cleaning), three meals and at least two snacks daily, scheduled activities, RN wellness checks monthly, 24 hours awake staff supervision, stand by assist with bathing, provide partial assistance with dressing and/or grooming, medication management, assistance with arrangement of local transportation (Silver Star Transportation, resident is responsible for cost). Each single room is provided with cable TV and internet access. Shared units may be available.
---
LEVEL 2 INCLUDES:
All the amenities listed in Level 1 with the addition of any or all of the following: Total assistance with all personal cares, full incontinence care and/or bathroom schedule, sliding scale diabetic management and other chronic illnesses supervision, wound care management under the guidance of local wound care specialist, therapeutic diet, individualized exercise program (PT/ OT support). 
---
LEVEL 3 INCLUDES:
All the amenities listed in Levels 1 & 2 with the addition of any or all of the following: Complete assistance with all ADL's and IDL's including hand feeding, mild behavioral management, catheter and ostomy care, and/or mechanical lift transfer. 
---
Respite Care for 28 days or less: $225.00/day
Services not included in the Levels listed above and Respite Care:
Personal Telephone Fees 
Personal Toiletries 
Medical Supplies 
Durable Medical Equipment 
Incontinence Supplies 
Foot care is available through a contracted podiatry service
Other Options: 
Corner rooms are $500.00 additional per month, if available. 
Shared bath will be a discount of $100.00 per month. 
Shared single room will be a discount of $200 per person per month. 
Assessment Fee for Permanent Residents: $500.00 (will be waived if automatic bank direct deposit is established for monthly fee). 
Contact us today for a tour of our senior housing suites and assisted living facilities.